DIY solar system model using floam
Dee was asked to do a solar system model for the library reading program competition. Our original plan was to do with paper but that involved me doing 90% of the work. So we decided to use floam . Dee did all the planets and i attached the planets to the cardboard.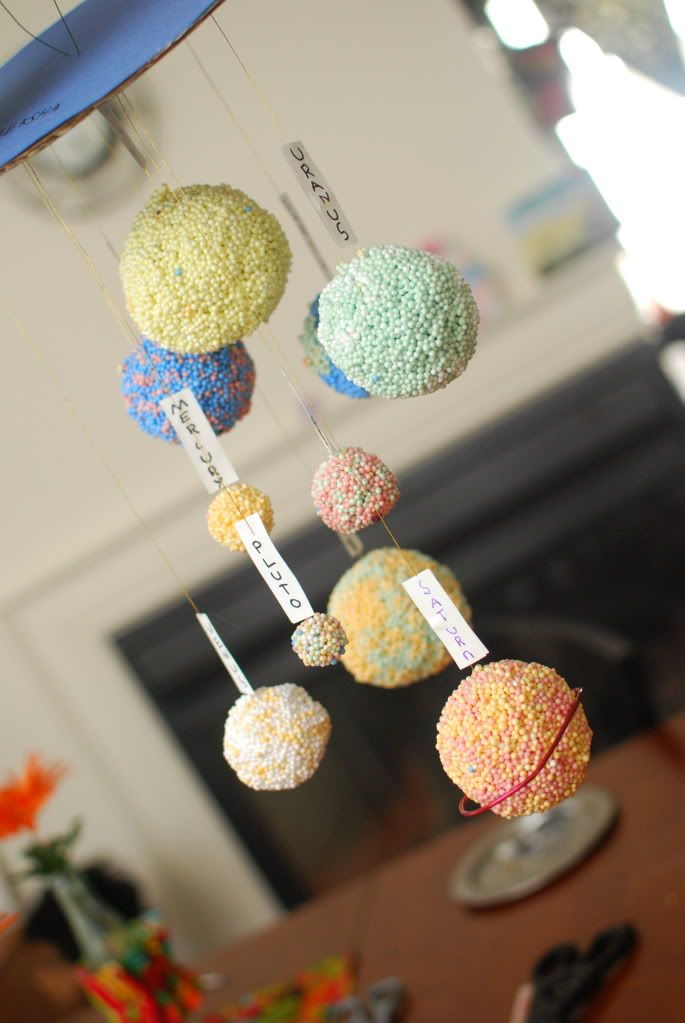 Materials
Floam You can find it
HERE
Strong thread
Cardboard
Masking tape
Small beads
Modpodge
How we did it
1. Dee made 10 balls (9 planets and 1 sun) in different sizes. She referred to her solar system book for the sizes and made accordingly.
2. I cut a circle in a cardboard and covered the bottom of the carboard with blue construction paper. Took a toothbrush and took white paint and sprayed a little white paint onto it. Then repeated with black paint. Then glued some tiny stars onto it. I got this idea after attaching the planet.. But its best to do before attaching the planets since some of my planets got spray painted.
3. Then i took some strong thread in the hand sewing needle..tied a small bead to one end of the thread.. Then pushed the needle from the bottom of the planet to the top ...so now the bead will be at the bottom of the planet..The bead can be hidden using the floam...At the top the thread with the needle will be there... Then i pierced the needle through the cardboard circle..Instead of tying the knot to keep the planet from falling i used masking tape over the thread since floam is very light weight..didnt take picture but the below picture might help
4. After attaching all the planets to the cardboard i glued the top of the cardboard with blue construction paper.
Attached the flower wire as ring for saturn. Also used it to make a hook in the cardboard to hang the planets.
IMPORTANT STEP : Since floam is sticky the planets started to stick to each other ..so i watered the modpodge and took every planet and coated it with modpodge and let them to dry for few minutes.After that no two planets stuck to each other.